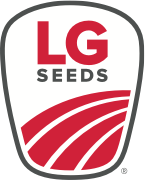 A New Breed of Seed Company
If the sun is your wakeup call and a tailgate is your board room, then you're in the business of counting on results. You measure success in more than just bushels, and that's why you depend on a seed partner that sees your whole operation. At LG Seeds, we put our leading-edge research, hybrids and experts to work for you—because when it comes to your success, We Mean Business™.

---
---
REFUGE BLENDED HYBRIDS Commonly called "Refuge in a Bag" or "RIB" simplifies your operation at planting time.

The majority of LG Seeds lineup of stacked hybrids are Refuge Blended Hybrids. Look for thee RIB in the Hybrid number.
---
---
CASH DISCOUNT SCHEDULE
9% BY NOVEMBER 10, 2019
8% BY DECEMBER 10, 2019
7% BY JANUARY 10, 2020
6% BY MARCH 31, 2020